The Lemsford War Memorial

The Lemsford War Memorial, a Celtic Cross made of Cornish granite, was unveiled by Lieut. General the Earl of Cavan on Sunday July 20th 1919. The names of those who died in World War I are engraved on the plinth and those who died in World War II on a tablet at the base of the cross.
To the Glory of God and in memory of those who gave their lives in the Great War 1914 - 1919.

FRED BUNNAGE, R.M.L.I. Read More
DAVID COCHRANE, R.W.Kent. Read More
HERBERT. E. FREEMAN, Beds Read More
REGINALD GOODGE, R.F.A. Read More
JAMES HALSEY, 40 Canadian Read More
GEORGE HILL, E. Surrey.Read More
ERNEST MARDLE, Herts.Read More
FRANK MARDLE, R.F.A. Read More
FREDERICK.W. SPRIGGS, Beds. Read More
GEORGE SPRIGGS, Herts. Read More
WILLIAM. J. STRONG, Lanc fus. Read More
ROBERT TIMS, Lond.Ir R. Read More
SIDNEY WALBY, Beds. Read More
HARRY. W. WELCH, York & Lanc. Read More
CECIL. B. WHITE, R. Fus. Read More
CHRISTOPHER WREN, Beds. Read More

Base: and in the 2nd World War 1939 - 1945.
RICHARD C. ALDERSON. CDSM. CDS.
ARTHUR J. EAGLES. R.A.
ERNEST L. FLITNEY. Beds & Herts.
DORIS M. FLITNEY. W.A.A.F.
ALFRED A. WILLIAMS. R.A.M.C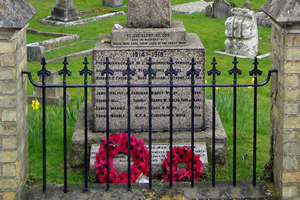 The Lemsford Local History Group is researching the lives of those men and women with Lemsford connections who died in the two World Wars, not all of whose names are engraved on the War Memorial. If you can add to our knowledge by way of personal stories, anecdotes, photographs, please contact us at info@lemsfordhistory.co.uk..We would very much appreciate your contribution.