The Williams Family at the Mill 1943 - 1974

The Williams family moved to Mill House, Lemsford in 1943 from Cheshire. Edmond Williams was a research chemist doing top secret work for ICI and the government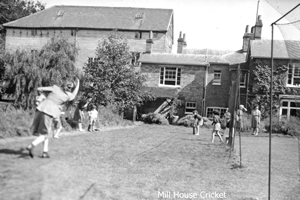 The following article was written by Sandra Jay who I met and kindly promised to record her memories and send them to me. The daughter of Edmond & Elinor Williams and sister Lindy who moved to Lemsford Milll in 1943 and left the Village 31 years later in 1974. Sandra also sent 3 images including a wonderful cricket match in the Mill Garden (Left). The thing I love about local history is 'connections' The same time Sandra sent her memories a leading member of our group Barbara, sent an article about Eric Fowler Sherriff who lived in the Mill before Sandra and his brother Geoffrey is mentioned in Sandra's article. Read More abut Eric CLICK ON IMAGE TO ENLARGE
The Williams family move into Mill House, Lemsford in 1943
Our family moved to the Mill House, Lemsford in 1943 from Cheshire. Our father Edmond Williams was a research chemist doing top secret work for ICI and the government on the development of Polythene, a polymer of ethylene which had been discovered by his team in ICI Cheshire in 1935, and which was found to be the perfect insulator for radar cables. ICI set up a plant to manufacture large amounts of polythene in Welwyn Garden City, and relocated our dad, our mum Elinor, Lindy then aged 4 and me, Sandra aged 1. My brother Charles appeared in September that year. Our nanny Rebecca Coatsworth came too and lived with us until Charles went to boarding school aged 8. We also had a housekeeper called Marjorie who came from the east end of London with her baby daughter Patsy, glad to escape the bombing. How strange it seems now for one family to have so much help!
We leased the house from Brocket Estates, and, in spite of my father's best efforts  they never agreed to sell it to us, although my mother remained there until 1974.
Our mother was a wonderfully enterprising war wife. Half the garden was given to vegetables and an industrial sized fruit cage. There was a large flock of chickens and at one time a pig. She was the gardener, butcher,  plucker, preserver, bottler, seamstress, dressing us with clothes made from her pre-war dresses on her manual sewing machine (often asking us to wind the handle).
During the war we were allocated a German POW called Ronnie to help us 'Dig for Victory'. Also our downstairs larder was used as a locked food store in case of emergencies and contained among other things large crocks of preserved eggs.
Pigeons shot by our mother through her bedroom window, and rabbit stew made from rabbits snared in the park by the keeper Mr Harper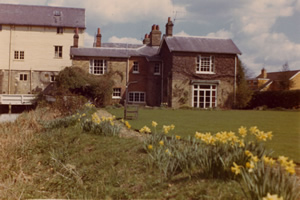 Our diet was supplemented by pigeon pie made from the wood pigeons shot by our mother through her bedroom window, and rabbit stew made from rabbits snared in the park by the keeper Mr Harper who lived in the cottages just by the Park wall (now pulled down). One of our favourite activities was to get up at dawn and go with him to check the traps.
Our mother was also car mechanic and puncture mender, not to mention queuer!  I still vividly remember waiting in the Ford 10 (our lovely car FMB 102) for hours as she progressed up the fish queue in Old Welwyn as we called it, and then, one day, letting the handbrake off on a slope, but without major disaster. When we became old enough we were the choppers, bean stringers, and above all the washers up. We also picked the fruit and when the fruit cage produced a huge crop of redcurrant berries we picked them and sold them to the Stores in Welwyn Garden City.
When my sister and I became 5 we went to school in St Albans on the Green Line bus which stopped outside Mrs Carter shop (just where the bus stop is now) and went up the hill and through the lanes to St Albans. We learned to ride on a lovely wicked pony belonging to Geoffrey Sherriff called Toblet (when we could catch him) and, when I was 10, I became the proud owner of Goldie a chestnut pony who lived partly in a shed at the top of the Mill House orchard, and partly in the field now called the Archery field. There were so few cars and so little perceived danger that I was allowed to ride around the countryside on my own with great freedom. Also we children would take sandwiches and go out for a bicycle picnic. I don't remember any suggestion that an adult should accompany us.

We had great fun catching stickleback fish using jam-jars attached to bits of string.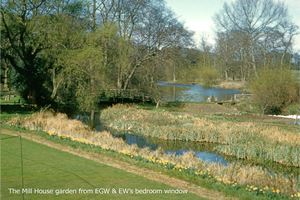 The river was very polluted when we were there and also full of thick mud, but despite the pollution we had great fun catching stickleback fish using jam-jars attached to bits of string.
We were instructed never to go in the river or the reeds, but otherwise like most country children at that time, after breakfast we were told to go out and play. We would disappear and reappear for elevenses and lunch.  The most memorable river drama was when a cow somehow waded into the river right by our house, just upstream from the mill, and became stuck in the mud. It was successfully rescued with a tractor and ropes, with the greatest difficulty as there is very little space. How a cow came to be there is extraordinary!
When we were in our early teens our dad's immediate boss, who was the Chairman of the ICI Plastics Division in WGC called John Swallow, came to live in Bridge House with his family. Our dad and their son were both county tennis players and both families made grass tennis courts on their lawns. A major part of our teenage social life was around these courts with tennis parties and cucumber sandwiches!
We children gradually moved away, first to university and then to work in London, but our parents stayed very happily in the Mill House playing golf together at Gustard Wood in Wheathampstead. I was married in 1969 in St John's church, Lemsford  and my eldest daughter Claudia played on the lawn as a baby and toddler. Unfortunately in 1972 my father died of a brain tumour. He was 59 and Chairman of the ICI Plastics division at the time. My mother decided to pursue their retirement plan of moving to Ashridge in Buckinghamshire,now sadly on her own, and in 1974 our family left Lemsford after many happy years.
From Tony Lock & Kathy Cook re Ramblers Holidays move to the Mill - 2006 was a special year for Ramblers Holidays in two ways. ,

Read More
Firstly, we're very proud of an organisation which has been in existence for 60 years and which, through the operation of our walking holidays, has given so much pleasure to countless thousands of holidaymakers over the years. We're working hard to maintain standards of excellence so we can celebrate many more years of providing such holiday experiences. Secondly, our anniversary year has seen us move offices into the wonderful location of Lemsford Mill and the village in which it stands.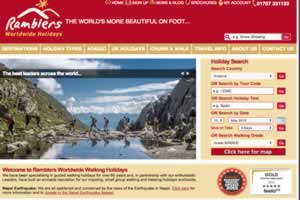 Our holidays started in the early post-war years when travel was still something of an adventure and many of our friends from those early years can recall hair-raising experiences! The travel business has endured many ups and downs since those days but we're delighted that our company has been growing successfully for many years now. During our 60 years the company has had several homes. Based originally in London, we moved to Welwyn Garden City in the early 1970s and now to Lemsford where we hope to reside for many a long year in such a strong and welcoming community. We would like to thank so many people who have contributed so much to the success of our organisation over the years and our recent move to Lemsford. They are too numerous to mention here but our gratitude is heartfelt. We're delighted that you've been able to join with us and participate in our celebrations today and trust that you've had a memorable experience. We would like to thank you for your interest Read More