St Johns Church _ Lemsford Village

The church was erected over 150 years ago as a memorial to George Augustus, the sixth Earl Cowper, who died before he could realise his publicly declared intention to build a church at Lemsford for the benefit of his tenants. His widow and children ensured that his wish was fulfilled, and the church, designed by David Brandon, was built and dedicated in 1859. View our gallery of St Johns Church Lemsford
St Johns Church - Lemsford Village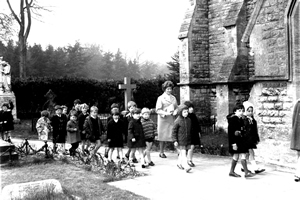 In 1858 Queen in Council approves the Ecclesiastical Commission's request to create the new Parish of Lemsford out of the Parish of Bishop's Hatfield, diocese of Rochester, on the 3rd February. 1859 Consecration of St. John's, Lemsford by Lord Aukland, Bishop of Bath & Wells on the 27th May.

Find out more about St Johns Church Lemsford
The Brocket Chapel
In 1930 the Brocket chapel was built in memory of Florence Nall-Cain, who died in 1927 at a cost of £7,000 by Sir Charles Nall-Cain. As you enter the chapel, to the left of the door is her stone effigy lying on a canopied marble tomb, finished in mediaeval style and complete with heraldic cats at her feet. The ceiling displays the armorial bearings of several families associated with Brocket Hall. Oxford architect F.E. Howard was commissioned to build the chapel in the Perpendicular style by Florence's husband Sir Charles Nall-Cain, great grandfather of Charlie Brocket. The private chapel was dedicated by the Bishop of St Albans in 1930 and is thought to be the last of its kind to be built in England. The nave and tower are Early English Gothic, the chancel Decorated, and there is a fine East window which was created, again, in memory of the Earl Cowper.
Lemsford Local History Group

The Lemsford Local History Group, formed in 2001, is interested in all aspects of the history and the people of this area - both ancient and modern. We welcome correspondence from anyone who shares this interest. Read more about St Johns Church Lemsford.

Andy Chapman LLHG

The present day church
The tower, complete with perforated quatrefoil parapet and corner-mounted dragon gargoyles, remains to this day a prominent landmark in the surrounding countryside. There was no clock until 1876 when the original timepiece was installed by Messrs. Gillet & Bland to the west and south elevations of the tower. The clock is now, of course, electrically powered. 1977 the Bells are installed. Peal of six bells dedicated by By Rt. Rev. Bishop of St. Albans, Robert Runcie on December 18th the bells were the inspiration of geoff Dodds and a group of volunteers.. This original feature houses a very steep and narrow spiral staircase that is certainly not for the faint-hearted!