LLHG Publications

Lemsford Local History Group has produced 4 publications and a Historc Map which are on sale to the public. The A5 booklets ranging in price from £2-00 to £2-50, & £1 for the Map help to finance our group to continue our work.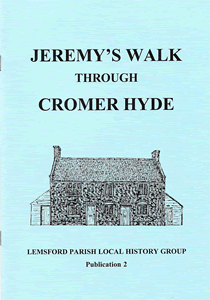 2. Jeremy's walk through Cromer Hyde. Price £2.00
Jeremy Summers was born in Welwyn Garden City and moved to Cromer Hyde in 1986. He was Chairman of Lemsford Local History Group from 2002 to 2007 and led the members on a walk through Cromer Hyde on Saturday, January 3 2003. This booklet describes that walk. Starting at the Crooked Chimney in Lower Cromer Hyde, follow the walk through middle Cromer Hyde to Upper Cromer Hyde, and find out the history of the area.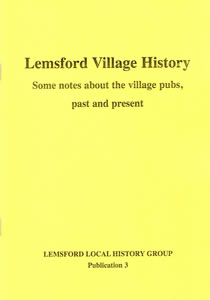 3. Lemsford Village History. Some notes about the Village pubs, past and present.Price £2.50.
This publication written by S.F. Borrie with help from Lemsford Local History Group, records all the pubs in the Lemsford area past and present. Learn the history of the pubs we know, The Crooked Chimney, The Long Arm and Short Arm, The Sun, The Wagon & Horses, Bull(now the East) Waggoners and Red Lion. You will also learn of the pubs that no longer exist, The Lamb, Roebuck , The Angel and The Horse and Jockey. This booklet is a great read to enjoy over a pint.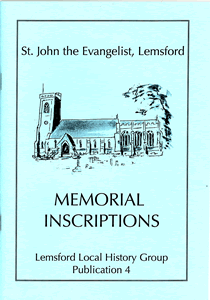 4. St John the Evangelist, Lemsford Memorial Inscriptions.Price £2.50
The memorial records of St John the Evangelist church of Lemsford transcribed by Mary de Soyres and Barbara Taylor, with illustration by Merle Hards This booklet could provide you with a record of your families memorial at St Johns. The index will help you find your ancestors from the Airey's to the Young's. If you have relatives you are looking for in the parish of Lemsford and believe they are buried in the Lemsford churchyard, this booklet will provide you with confirmation as well as the inscription. Includes a plan of the church and graveyard and a list of service men and women on the war memorial.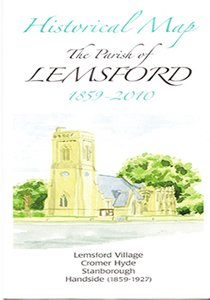 3. Lemsford Parish Historic Map.Price £1.
Lemsford Local History Group Have produced a Historical Map of the parish of Lemsford. Full colour, double sided and full of interesting facts about Lemsford parish , past and present.
To purchase the booklet of your choice please Email chapman.lc@btinternet.com with your order. If you are in or around the village we will deliver to you free of charge. Further a field we will send it by post, adding 70p to the cost of the book for Postage and packaging for all orders in the U.K. Mainland. Overseas postage charges calculated on request.