Elizabeth Millbanke(1751 – 1818)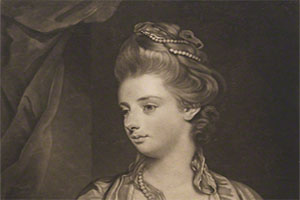 Elizabeth Millbanke, mistress of the Prince Regent
Elizabeth Millbanke who was a mistress of the Prince Regent, later George IV, who was a frequent visitor to Brocket Hall. The Prince gave his mistress a gift of a Reynolds painting which hangs in the ballroom and created the Chinese suite of rooms - known as the Prince Regent Suite - which are still used by residential guests today. The building was finished by by the 1st Lord Melbourne. With his wife they also widened the river into the lake and the work was complete by 1775. A surprising fact about Brocket Hall was at this time was horse races were held in the park.
Elizabeth Lamb, Viscountess Melbourne (née Elizabeth Milbanke; 1751 – 1818) was one of the most influential of the political hostesses of the extended Regency period, and the wife of Whig politician Peniston Lamb, 1st Viscount Melbourne. She was the mother of William Lamb, 2nd Viscount Melbourne who became Prime Minister of the United Kingdom amongst several other influential children. Lady Melbourne was known not just for her political influence but also for her friendships and romantic relationships with members of London society including Georgiana Cavendish, Duchess of Devonshire, George, Prince of Wales and Lord Byron.
Elizabeth Milbanke was baptised on 15 October 1751 in the village of Croft-on-Tees, North Yorkshire, the daughter of Sir Ralph Milbanke, 5th Baronet and his wife Elizabeth (née Hedworth).[1] Elizabeth's brother was Sir Ralph Noel, 6th Baronet; the family resided at Halnaby Hall, Yorkshire. Her father was a politician, and her maternal grandfather was John Hedworth, Member of Parliament for County Durham.Elizabeth was privately educated and learned French and poetry composition.Her mother died in 1767. Two years later, Elizabeth met Sir Peniston Lamb, 2nd Baronet; they married in London on 13 April 1769.[3] The couple lived at Melbourne House in Piccadilly and Elizabeth quickly became a well-known figure in London Whig society. She was apparently unaffected by her husband's infidelity early in their marriage with actress and courtesan Sophia Baddeley, just as he came to tolerate her numerous love affairs.Peniston was raised to the Peerage of Ireland as Lord Melbourne, Baron of Kilmore, in 1770 and Viscount Melbourne in 1781. As well as Melbourne House, the family had country residences at Brocket Hall in Hertfordshire and Melbourne Hall in Derbyshire.
Image with thanks from from NPG
Extra information from wikipedia.org

Contact Us Today info@lemsfordhistory.co.uk. Images and articles welcomed
New Brocket Hall
The estate was sold to Sir Matthew Lamb in 1746 by Thomas Wiinnington . This era was an eventful time Sir Matthew engaged one of the leading architects of the day Sir James Paine and asked him to build a new Brocket hall and Paine did just that. Sir Matthew died around 1765.
James Paine (1717–1789) was an English architect.Essentially a Palladian, early in his career he was Clerk of Works at Nostell Priory, and worked on many other projects in the area including Heath House in the village of Heath in between Nostell Priory and Wakefield.From the 1750s, he had his own practice, and designed many villas, usually consisting of a central building, often with a fine staircase, and two symmetrical wings.

Wikipedia
Early Days
LAround this area had several manors,Symonshyde, Benstead, Heron, and Chewells around the time of Henry III (1207 to 1272 ) these mannors merge and become 'Watershyppes'Early evidence suggests the house dates back to 1239 and was owned by Simon Fitz Ade. They were also known as FitzSymon.