Charles Ronald Nall-Cain(1952)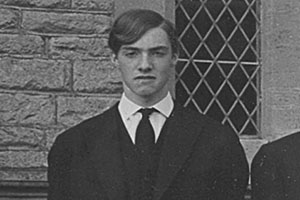 Charles Ronald Nall-Cain
Arthur Ronald Nall- Cain had 3 children, Ronald, David and Elizabeth Ronald. His Heir Ronald died at 32 On his death in 1967 the estate was inherited by his grandson Charles Ronald Nall-Cain in 1967, he was still at Eton and only 15 years old. As his father had pre- deceased the 2nd Lord Brocket, Charles inherited direct from his grandfather. Charles built up the estate and promoted the hall as a conference venue for high profile corporate events and senior government meetings. In 1992 he built the first golf course and named it after the second Lord Melbourne. In the early1990's Charles uncounted problems in his business of trading Vintage Ferraris and decided to sell a 60 year leasehold interest of the estate to CCA international. Who now run the hall.
Charles Brocket is the son of Hon Ronald Nall-Cain and Elizabeth Trotter. His father died when he was nine years old. He became the 3rd Baron Brocket aged fifteen on the death of his grandfather, Arthur Nall-Cain, 2nd Baron Brocket, also inheriting Brocket Hall. The Hall was at the time in a bad state of repair, and he has since converted it into a hotel and conference venue.[2] Today he still owns the hall in Hertfordshire through a trust which leases it to a German consortium. The lease expires after fifty years.
An Old Etonian, Lord Brocket served in the 14th/20th King's Hussars as a Lieutenant in Germany. He became known as a playboy, and collected classic cars, once owning forty-two Ferraris, which he became known for in the eighties and early 1990s. He was convicted of insurance fraud in 1996 and sentenced to five years in prison, of which he served two and a half years.[1][2][4][5] In 2004 he was a contestant on the third series of I'm a Celebrity... Get Me Out of Here!. Finishing in fourth place, his newfound fame made him a popular TV celebrity, making almost £1 million in offers. His autobiography, Call Me Charlie, was published in hardback in September, coming in the Top 10 Best Sellers list of 2004. He hosted the ITV game show Scream! If You Want to Get Off and presented Privates Exposed, a behind the scenes programme for ITV's Bad Lads Army, on ITV2.
In 2007 he launched his own Brocket Hall Foods range of groceries.
Marriages & Children
Brocket has married twice, firstly in 1982 to former Vogue model Isabell Maria Lorenzo with whom he has three children:

Hon Alexander Christopher Charles Nall-Cain (born 30 September 1984)
Hon Antalya Stephanie Lauren Nall-Cain (born 1987)
Hon William Thomas Anthony Nall-Cain (born 1991)
Following divorce in 1994, Brocket married Harriet Victoria Warren on 24 June 2006. They have two daughters:

Hon Amelia Florence Elizabeth Nall-Cain (born 8 September 2009)
Hon Iona Jasmine Diana Nall-Cain (born 20 October 2011)

Image from LLHG
Extra information from en.wikipedia.org

Contact Us Today info@lemsfordhistory.co.uk. Images and articles welcomed




New Brocket Hall
The estate was sold to Sir Matthew Lamb in 1746 by Thomas Wiinnington . This era was an eventful time Sir Matthew engaged one of the leading architects of the day Sir James Paine and asked him to build a new Brocket hall and Paine did just that. Sir Matthew died around 1765.
James Paine (1717–1789) was an English architect.Essentially a Palladian, early in his career he was Clerk of Works at Nostell Priory, and worked on many other projects in the area including Heath House in the village of Heath in between Nostell Priory and Wakefield.From the 1750s, he had his own practice, and designed many villas, usually consisting of a central building, often with a fine staircase, and two symmetrical wings.

Wikipedia
Early Days
LAround this area had several manors,Symonshyde, Benstead, Heron, and Chewells around the time of Henry III (1207 to 1272 ) these mannors merge and become 'Watershyppes'Early evidence suggests the house dates back to 1239 and was owned by Simon Fitz Ade. They were also known as FitzSymon.