The Bull at Stanborough

The 'Seven Stars'to the East via the Horse & Groom and The Bull.- To view Gallery Click Here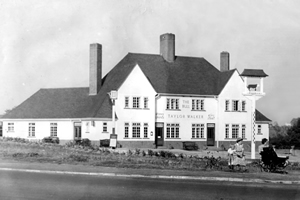 For many years the property owned by the Battell family. The main building stood a little to the North of the present building, roughly where the Aston Martin Garage is located. In 1724 it came to William Tomkin and was known as the 'Seven Stars'. Later it was by Willliam Thorpe, farmer of Stanborough Farm. In 1756 it was called 'The Horse & Groom' or 'Horse & Jockey' and was owned by Jame Hetherington who was married to Williams Thorpe's daughter Mary. Later their son Thomas Hethering took over. In 1773 it was in the hands of William Whitty from whom it was purchased in 1789 by William Whittingstall of Hoddesdon Brewery.
A new public house was erected in 1822
In the early 1800s the North Road at Stanborough was re-aligned and a new public house was erected in 1822 on the tongue of land between the present day Brocket Road and the Great North Road. It was called 'The Bull' Christie's Brewery of Hoddesdon were the owners and Joseph Langton the licensee. The Langtons were millers and farmers and retained the licence until about 1860. Matthew Blacknell and his family then went to live there. In 1882 the publican was William Ablett and in 1901 it was William Marr. He lived there with his wife Katherine and their two infant sons.
Taylor Walker build the present pub
In 1928 the pub was acquired by Cannon Breweries later a subsidiary company of Taylor walker and Co. However the pub was demolished in the early 1930s when a further re-alignment of the North Road was made and a new pub was erected and opened in 1938 at its present site. It was again called 'The Bull'. Between 1981 and 1988 it was called 'The Cavalier' and the sensibly 'The Bull' again. The owners changed from Ind Coope to Allied Breweries. The late 80s and most of the 1990s the pub was owned by Punch and various mangers including Ken managed the pub. Under Ken it was a popular pub with the youth of Welwyn & Hatfield and it became a 2-4-1 Restaurant. In 20** it was bought by the owner of 'The East' in Borehamwood and also named the 'The East '. It has become a popular Chinese Restaurant and still is used as a pub with the locals of Stanborough
Set within a charming old pub building, this impressive 110 seater restaurant is the perfect venue for all types of diners, from couples and families to solo diners and groups.The East Stanborough is open seven days a week and offers ample car parking.

Read More
When the Great North Road went through Lemsford it is said as many as 150 coaches a day. Carriages and wagons would pass through the village daily.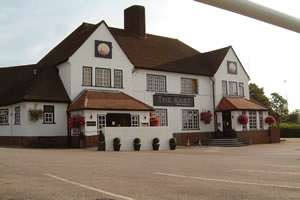 All the inns would have offered food and drink for the travellers. Accommodation would be provided if required. Wheelwrights and blacksmiths were available to service the wagons and horses. Stabling for the horses would also have been provided.Read More about the Golden Age Of Lemsford - Click Here