Lemsford Football Club

Lemsford F.C. Has been part of village life for over 100 years and is still thriving today see website. We have records from the parish magazine dated. To view Gallery Click here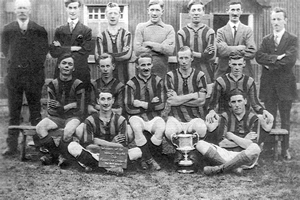 October 1908 , Lemsford News
'We are glad to be able to state that the good start made by the Football Club has been well maintained. The number of members is most satisfactory. Perhaps one of the most pleasing features about it is that the membership includes some from Ayot. There has been quite a gathering of spectators to view the matches, and they have been rewarded so far by seeing Lemsford twice victorious. We do not think that anyone will be disposed to quarrel with the statement that this excellent start is in no small degree due the energy and keenness of the Secretary, Mr W. J. Welch.'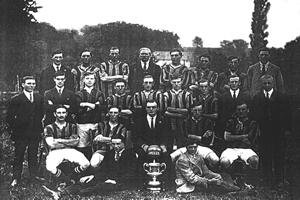 October 1910, Lemsford News
'At a meeting of the Football Club held in the Reading Room on Wednesday, July 27th, Mr Cecil White was elected Captain of the team, and Mr Frederick Reynolds, Vice-Captain. The Committee consists, besides the two named, of our indefatigable Secretary – Mr Welch, Mr Hale, Mr W. Flitney and Mr Wilmhurst. This year Lemsford has joined the Mid-Herts League (Division II) and have also entered for the Herts Junior Cup. The season opened on September 10th at Boreham Wood, when Lemsford lost to that Club by two goals to none after a really good game. On the two following Saturdays, Lemsford lost to Radlett and effected a draw with London Colney. Mr Oliver Reynolds deserves our congratulations. For four successive seasons he has scored the final goal for Lemsford.'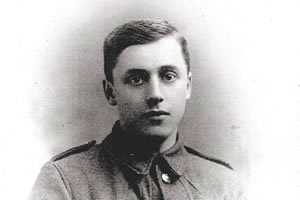 The sad story of Captain Cecil White is told below.
Born 15th July 1891 – Died 16th August 1916 - 24th Battalion of the Royal Fusiliers. Cecil Bertram White was born in Ayot St. Peter on the 15th July 1891, the second son of James and Emily (née Perris) White. His father was the coachman at Ayot Bury for Mrs Holdsworth who later came to live at Lemsford House. By 1911 the family had moved to North Road, Lemsford. Cecil worked as a tailor, ran for Hertfordshire and in 1910 was Captain of the Lemsford Football Team. He was engaged to be married to Grace Wren, the sister of Christopher Wren. She died on the 22nd September 1918 aged 29, reputedly of a broken heart.
On the 6th November 1915, aged 24, Cecil enlisted at Great Scotland Yard, London and joined the 30th Battalion of the Royal Fusiliers, also known as the City of London Regiment. By the time of his death he had transferred to the 24th Battalion (known as the 2nd Sportsman's). His Army Small Book describes him as being 5ft 3 ins tall, with fair complexion, grey eyes and brown hair.
After being wounded twice Cecil returned to the front and took part in the Battle of the Somme. Private 4335 Cecil White of the 24th Battalion of the Royal Fusiliers died on Wednesday August 16th 1916 aged 25 and is buried in grave B 9, Carnoy Military Cemetery, Somme, France. Captain Finnie of the 4th Fusiliers in a letter to Cecil's parents wrote: "You have already been informed that your son was sniped on the 16th August. His equipment, along with many other sets, was blown to pieces, after it had been taken off his body. Your son was buried by men of his own company. He was a splendid soldier and liked by all in the company. He died doing his duty, a thing I know you will be proud to hear. His comrades sympathise with you in your great loss". ( Bishop's Hatfield Parish Magazine, Lemsford News April 1917).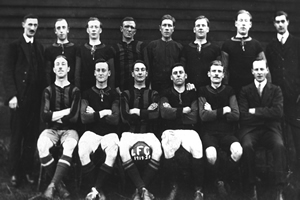 1919 team who served in WW1
We have researched the 1919 team who served in WW1 please find link to our WW1 website www.lemsfordww1.co.uk/Home_front_Lemsford_FC.html
The First World war stopped any games abut the team resumed in 1919, a report fro Lemsford News confirms this.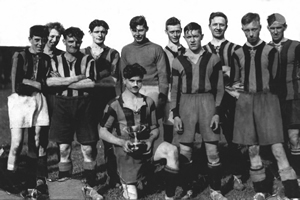 November 1919, Lemsford News
The Lemsford Football Eleven – are to be congratulated on their fine victory over the St. Albans City Reserves on Saturday, October 11th, by 3 goals to 2.
The 1930s
We have a programme donated by a member Arthur Rollings from 1937 Welwyn Hospital Cup Final Easter Monday.it shows the strip was Black and amber and a list of players including H. Brown the landlord of the Chequers.
The present Chairman is Cliff Picket. And we hope to research more about the team with his help. To check out

latest News

and team results

We have a member Ron Forsdike who played in the 1950s. He is with another local Bill Dance who has been associated with Lemsford F.C.for many years. We have 3 images (View Gallery) from this time.. Ron is also the son in law of Sammy Welsh.Click here to view Gallery The 1950s (A) 1950 team: FR: Philip Runchman, Don Cordner, Ron Forsdike, (Boy) Brian Hussey, MR: Rodney Tufts, GeorgeFlitney, Ron Taylor, FR: Tony Berks, Fred Pugh, Arthur Dance, Ron Flitney, Bill Dance.