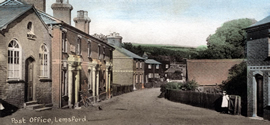 Lemsford Local History Group
The Lemsford Local History Group, formed in 2001, is interested in all aspects of the history and the people of this area - both ancient and modern. We welcome correspondence from anyone who shares this interest. The group archives now include a significant number of photographs and documents, as well as records of baptisms (to 1985), marriages (to 1970), burials (to 2003) and memorial inscriptions (to 2009) from the St John's, Lemsford parish registers. Records of baptisms, marriages and burials before the consecration of the church in 1859 will be found in the registers of the parish of St. Ethelreda, Hatfield. The archive also contains admission records for Lemsford school, now St. John's Church of England Junior Mixed Infants school. We hope that you will enjoy reading about the people and the history of the parish of Lemsford in our web-site and would be delighted if you would like to contribute to the site with your own memories, photographs or family history. We welcome your comments and are happy to search through our archives to try to answer your enquiries.

We have enjoyed researching and building this site. However we are a small group with limited resources and if it has been of help or given you pleasure a small donation to the Lemsford Local History Group to help with the costs would be much appreciated.